As we come to the end of another year, we've been looking back on some of the great opportunities we've been part of and some of the work we've produced. Ready to Read editor Bernadette Wilson recounts a big book that was special to make, editor Don Long describes the publishing he's been doing in the Pacific, Matt Comeskey shares his adventures with CSI Private Eye, and designer extraordinaire Simon Waterfield gives a rundown of his exciting year.
---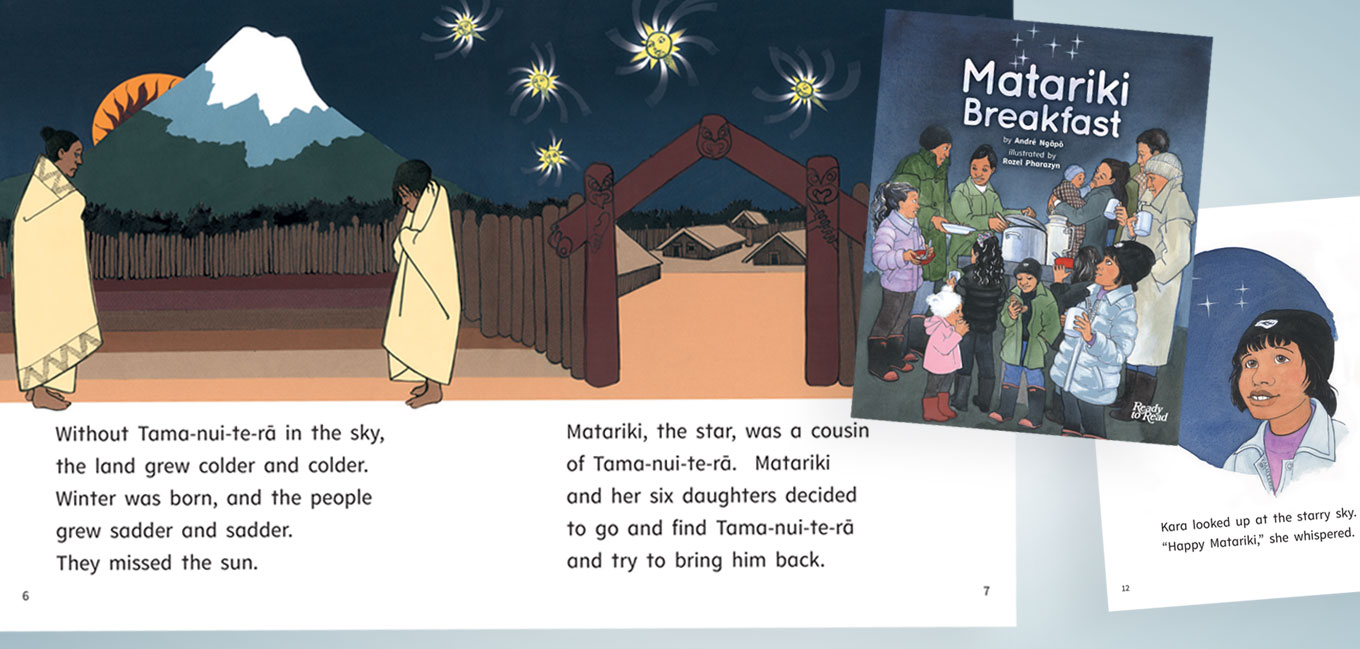 Matariki for young readers
Bernadette Wilson
This year, one of the highlights for me was seeing the Ready to Read big book Matariki Breakfast published. Apart from being a delightful story for shared reading, I know it is going to be an excellent resource for schools.
Matariki Breakfast by André Ngāpō tells the story of Kara and her experience of celebrating Matariki with her whānau. It includes a retelling of a Tainui story about how the Matariki stars brought back Tama-nui-te-rā (the sun) after Māui and his brothers had caught him. The illustrations are by Rozel Pharazyn, and beautifully portray Kara and her family welcoming the Matariki constellation.
Although the story focuses on how one family celebrates Matariki, it will open great classroom discussions about various family celebrations and support students' understanding of different cultures.
An excellent audio version of Matariki Breakfast, narrated by Jim Moriarty, along with TSMs for this book, can be found on TKI.

Developing a science curriculum in the Pacific
Don Long
Working within another culture and language is always a transformative experience, and I've had the honour of working with many cultures and languages from around the Pacific.
I've been working with the University of Auckland to provide publishing services to the Ministries of Education in the Cook Islands, the Solomon Islands, and Tonga. It's been a deeply enriching experience. I've worked alongside Pasifika experts such as Upokoina Herrmann (in the Cook Islands), Dr. 'Ana Taufe'ulungaki (in Tonga), and Emilie Sila'ila'i (currently in the Solomon Islands) to develop early reading and science resources.
The work has included non-fiction books for the schools in the Cook Islands, where each book has been published in six dialects, and in both student book and big book versions. In the Solomon Islands, it's been fascinating to see kastom (traditional culture) stories being used to introduce aspects of the science curriculum. In Tonga, the work has been really exciting – it will test ways to present two languages under one cover, during a trial in schools that will have international implications when the results are published. Watch this space!

Engaging in literacy with CSI Private Eye
Matt Comeskey
CSI Private Eye is the online, interactive literacy adventure series we developed in 2016. This year we've really seen it take off: we've added new cases, developed it as a dual-language resource (you can toggle between English and Spanish), and have seen almost 50,000 students all over the world try it out!
I'm proud of how our initial vision really came to life, and how we created something unique that is truly getting young readers (along with their teachers and parents!) engaged in stories, thinking critically and using digital tools to explore, analyse and write.
Our aim was to present engaging, interactive real-life mysteries that would be initially unfamiliar to students, to have them engage deeply with the content, and to leave them with a very long-lasting impression of those stories. We know we must be doing something right when teachers email us to say they are still at school at 8:30pm because they are having so much fun exploring the series!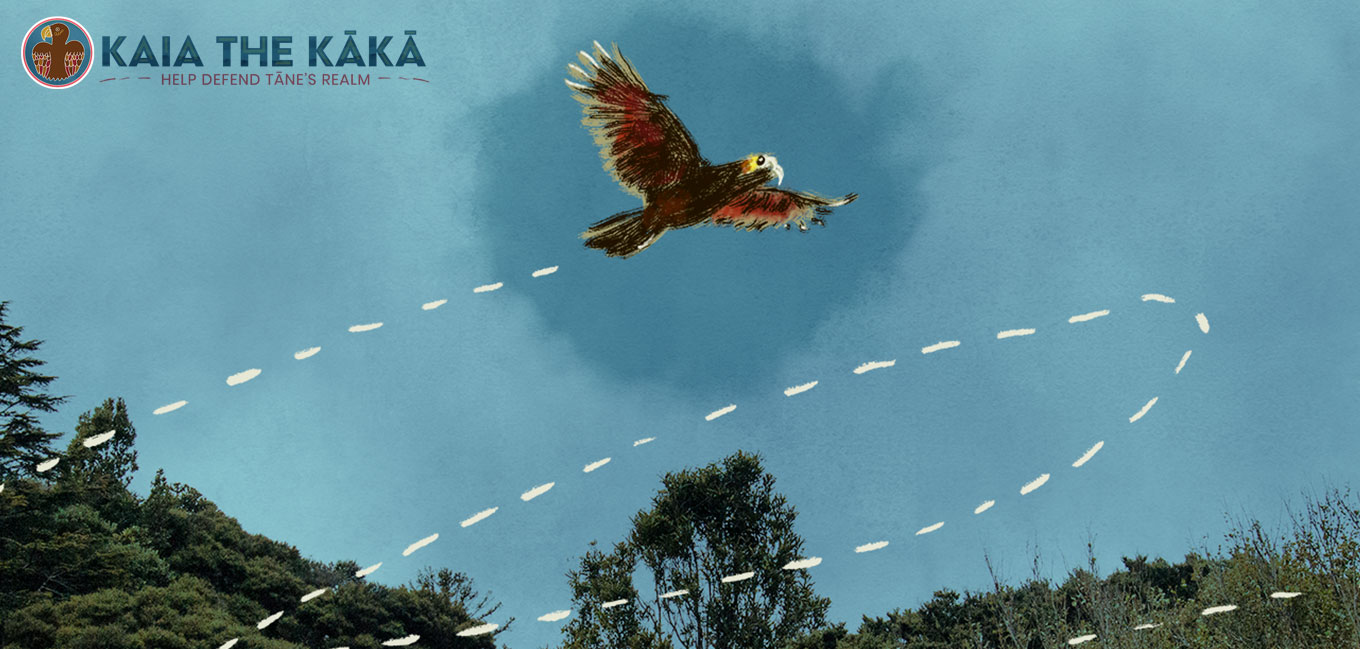 Adventures in design
Simon Waterfield
 As a graphic designer, I get to work on a diverse range of projects. Three in particular (I can't choose just one) have stood out for me this year:
1. Kaia the Kākā
Together with Nature Through Arts, Enspiral and Kemi Niko & Co, I represented Lift in developing ideas for an outdoor adventure that would bring together science, arts, storytelling, and digital technology.
It resulted in the creation of Kaia the Kākā – an augmented reality adventure that encourages young people to use creativity and strategy, and become innovative thinkers and engage with the idea of a nature-rich world. It's been a great process – I've enjoyed seeing our discussions turn into development and then development into trials.
While Enspiral lead the development of the mobile application, I provided design, illustration, and web support. As a team, we're now looking forward to further development, some of which will include building a suite of educational resources to work alongside, and taking Kaia and her chicks further afield to other locations.
Kaia the Kākā is currently in Beta mode at Central Park until the end of January, and it's getting some great feedback. One parent commented, "What a lovely adventure! We found new nooks and crannies in a park we've been to a million times before. We could hear the Kākā calling and our boy said, "That's Kaia!" It was a beautiful way to explore the environment."
I recommend checking it out – it's perfect for a summer holiday activity!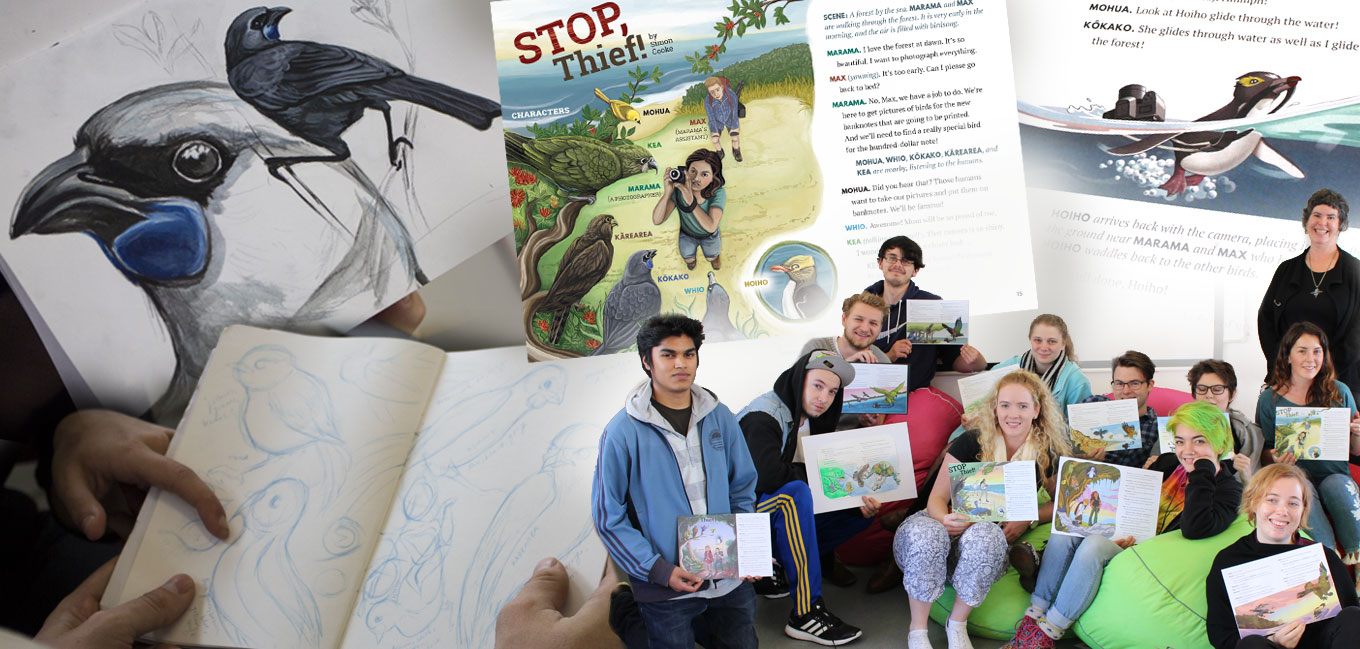 2. The Massey School of Design illustration live brief
Every year, Lift Education works with the School of Design at Massey University to do a 'live brief' project, which takes last-year illustration students through the "real world" process of working with a client. They're filled in on the needs of an educational resource and are given a brief for a real project – illustrating a story from the Ministry of Education's Junior Journal. From there they create concepts and rough illustrations, take in feedback, and finally submit final art.
Tutor Caroline Campbell and I work with the students from start to finish, making sure they meet the brief and are given helpful feedback on their work. At the end, Junior Journal editor David Chadwick and I choose one of the students' work for publication. (And make sure they are paid for their efforts!)
I enjoy being part of this project every year – it's always great to see how much Lift values fostering new talent. This years' class had an exceptional range of talent, which made for a really hard decision.
The published submission was awarded to Hannah Hageraats, whose art had a unique voice to it which served the story well. Her painterly style brought great characterisation to the birds, and a good sense of place. Careful composition and unique compositions really made her work shine.
You can read the published story here: Stop Thief! Written by Simon Cooke, illustrated by Hannah Hageraats. (Junior Journal 55, Level 2, 2017)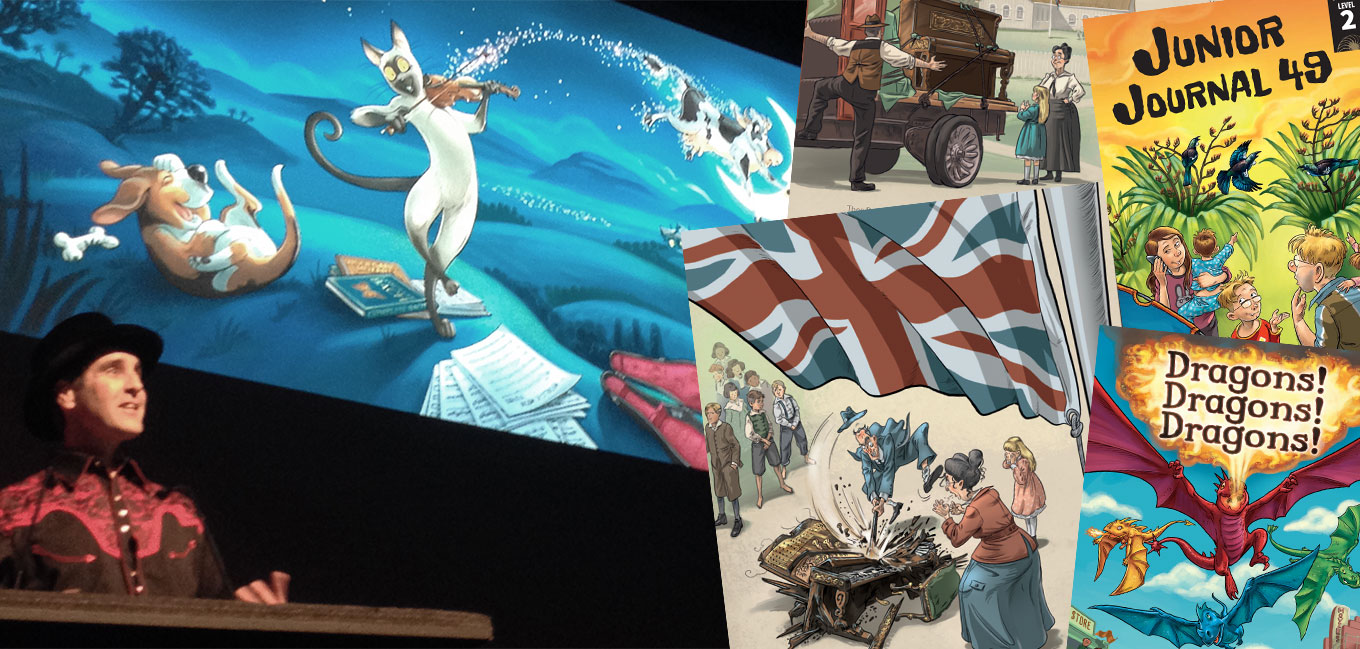 3. Judging the Mallinson Rendal Illustrators Award
This year I also had the honour of again being on the selection panel for the Arts Foundation Mallinson Rendal Illustrators Award, an award presented every two years to a children's book illustrator. Alongside author extraordinaire Tessa Duder and children's book advocate and reviewer Trevor Agnew, I had input in selecting a recipient for the award.
This years' recipient was powerhouse illustrator and author Donovan Bixley. Donovan's output of work is phenomenal and we're so pleased he's been able to squeeze in a number of commissions for Ready to Read, Junior Journal, and the School Journal over the years.
Check out a couple of highlights (they'll download as PDFs):
Das Piano Written by Bernard Beckett, illustrated by Donovan Bixley
(School Journal, Level 3, June 2014)
Iron Tamariki Written by Paora Tibble, illustrated by Donovan Bixley
(School Journal, Level 2, June 2014)
Ring! Ring! Written by Diana Noonan, illustrated by Donovan Bixley
(Junior Journal 49, Level 2, 2014)