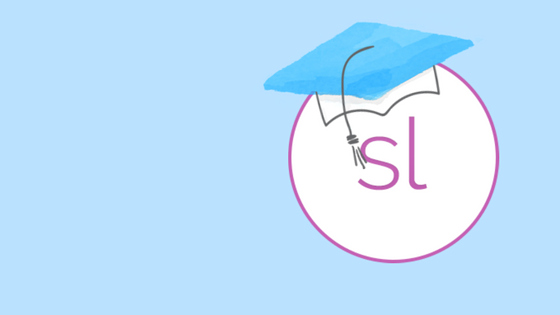 Are you thinking about using Articulate Storyline?
I've been there – maybe I can help.
I've worked in education for more than 16 years, and I've realised that I am always learning. In fact, I think a day without learning is a day lost.
About 18 months ago, I was presented the opportunity to learn Articulate Storyline. (If you've found yourself on this page and have no idea what Articulate Storyline is, click here.) I didn't hesitate – I'd been looking to get back into using software applications, so it was a no-brainer.
I have absolutely loved learning how to use the programme, but it hasn't quite been the learning experience I envisioned. In this article I'll be sharing my Articulate Storyline journey and offer a few tips to help you on your own journey.

Getting started with Storyline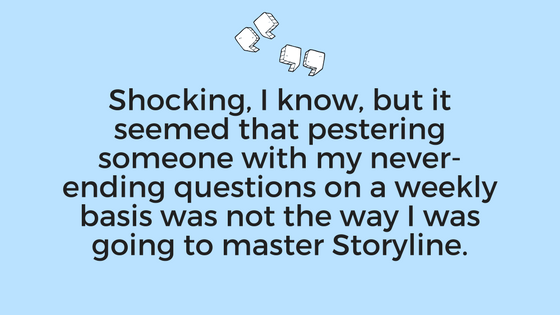 When I was first getting to know the programme, I'd expected to be able to go online and find Storyline courses in my local area. I'd assumed there would be a course I could attend on a weekly basis with a trainer who could impart all their knowledge – someone who would listen and respond to my numerous questions.
In reality, I found that courses were very few and far between, and they were only one- or two-day courses at that.
Shocking, I know, but it seemed that pestering someone with my never-ending questions on a weekly basis was not the way I was going to master Storyline. So, in lieu of having my very own Storyline tutor, I went online.

The online community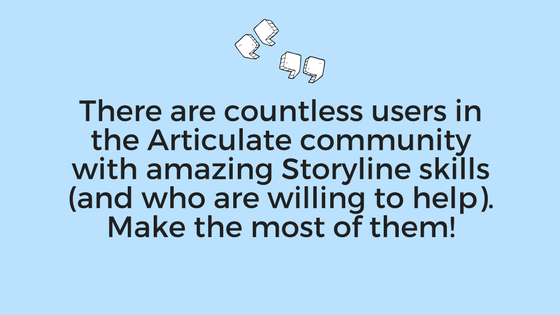 My first stop was the Articulate community – an excellent starting point for learning the basics.
There are tutorials to work through, and when you get stuck you'll find the Articulate forums will be a handy resource – there's a wealth of knowledge out there.
My advice? Don't be shy!
As I worked through all the tutorials, I found there were many questions I wanted to ask, but I was reluctant to post my Storyline issues to the community. As soon as I got over myself, I realised there are countless users in the Articulate community with amazing Storyline skills (and who are willing to help). Make the most of them!
There are other communities you can be part of, too.
I wasn't satisfied with just the basics, so I started looking at other resources. I discovered that Lynda.com is another great source for tutorials. What is on the site is quite limited, but I found the quality of the material very helpful – it helped to really build on my skills and reinforce my learning.
Taking eLearning into the real world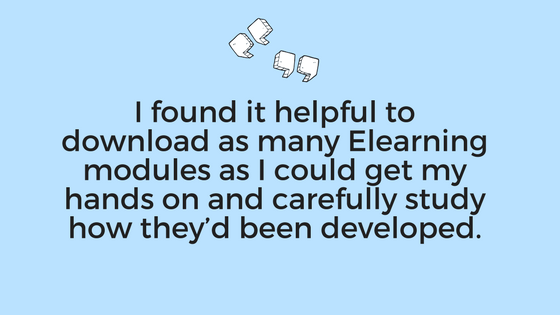 While I was working through these tutorials, I was still exploring the Articulate community.
Many people share examples of the eLearning modules they've built (some of them will absolutely blow you away). I found it helpful to download as many as I could get my hands on and carefully study how they'd been developed.
This in itself was great learning – it not only provided me with great real-life examples of eLearning modules, but I could apply some of the elements to the programmes I was building, too.
Coincidentally, exploring the community lead me to discover that the Articulate team were headed to Melbourne to deliver a two-day Storyline workshop. I knew I had to be there, and I wasn't wrong – going to the Articulate workshop was incredible, and that's before I even started learning.
I found the entire experience invigorating, especially in terms of working with video in eLearning modules. What I learned about video even sparked our Communications portfolio piece at Lift Education (you can take a look at it here).
What were my biggest takeaways from the workshop?
These were the things that revolutionised Storyline for me:
Putting Storyline skills to the test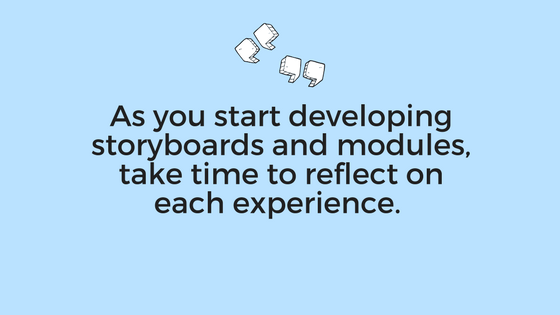 I was lucky enough to have a real storyboard to put my skills to use on after the workshop. For me, this was the real test.
What had I learned over the past few months? Was it enough to complete the storyboard? Was learning on an ad-hoc basis without having a person there to question the best learning approach for me?
I was about to find out.
To say I breezed through the storyboard would be a lie, but I ultimately completed it (a learning curve in itself). It helped me identify a number of skills I hadn't mastered, and helped me find the answers to many questions.
And as they say, practice makes perfect.
As you start developing storyboards and modules, take time to reflect on each experience. It helped me to identify what was successful and what wasn't, and what skills I still needed to work on. I've thought of each one as a chance to reinforce my learning and build confidence.
My top tips from working with Articulate Storyline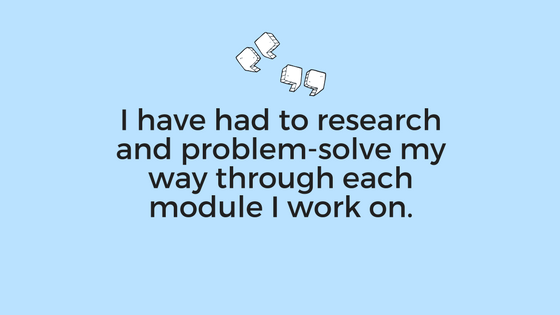 I've come a long way since I first started using Storyline. While I would have loved someone to sit at my desk and guide me through each step, I have had to research and problem-solve my way through each module I worked on.
This has been an incredibly positive experience for me, though, and for those of you just starting out, here are some key things you can take from my journey:
Check out the online communities for all your basic and developing skills – start with the Articulate Community and Lynda.com.

Check out how other people in the Articulate community have used Storyline. Study what they've developed and take note of the things that will be helpful to you when you are building your own eLearning module.

Head along to an Articulate course. The training it provides you with is invaluable.

Practice, practice, practice. Start putting your skills into use as soon as possible ­– it will reinforce your learning and help you gain confidence for your next storyboard.

Start using Master Slides as soon as possible – they save so much time!

Always name the objects on your timeline. Trust me, once you start using triggers, you don't want to be going through each and every object trying to find the one you want to apply the trigger to.
Hungry for more?
Check out Ashley Chiasson's book, Articulate Storyline Essentials. Like me, you'll be familiar with some of the content, but you might also learn a few new skills, too!
Get in touch with your local eLearning specialist – there's a good chance they'll know all about Articulate Storyline, too. I discovered Robbie Chui at Learning Tech and arranged for him to provide still more hands-on training. I wanted to get some advice and guidance on an eLearning module I was working on, and having Robbie meant I could ask a lot of questions and have them answered immediately (at last, my very own Storyline tutor). Thanks Robbie!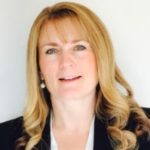 Kelly Watson is a Learning Solutions Developer at Lift Education. She works alongside businesses and organisations to develop learning resources and assessments. 
Get in touch if you'd like to know more about how using Articulate Storyline can help your business.